The Bellisimo Signature Collection.
Up Close and Personal.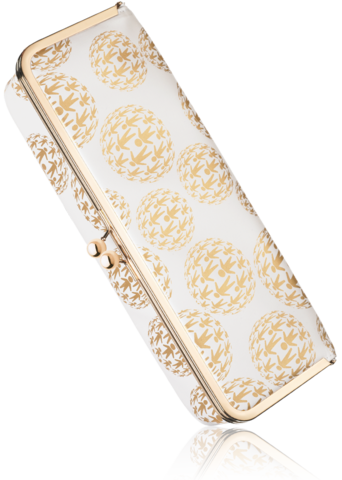 The Collection Clutch Set
Custom Nail Lacquer. Made in the USA
The Bellisimo Signature Collection Clutch - a "must have" that is sure to become one of your favorite "go to" items.
A beautiful white and gold designed clutch with gold framing and an easy opening ball clasp
that's oh so elegantly styled it could even double as a fashion accessory.
Inside is a luscious white satin lining that nestles Bellisimo's six perfect shades and two perfecting nail treatments. Sewn into the bottom are small loops to hold your lacquer collection when taken out of the individual cartons.
Designed to carry the entire Bellisimo Signature Collection our Bellisimo Signature Clutch will also provide room for your nail care tools and keeping everything in one place. Use the inside pocket for your nail file, nippers and a few sachets of lacquer remover.
The Bellisimo Signature Collection Set- a must to take along to all your mani/pedi services and equally is great for when you travel. Comes with: Our luxury line of six perfect colors, 2 perfecting treatments, and a glass nail file for ultra fine shaping.